I am grateful for INSPIRING TEACHERS!
Hello Beautiful!
The last few weeks at Beauty Everywhere have been extremely busy. Not only have we been launching our new brand, but we have also launched one of our fastest growing hits, Awakenings with Iyanla Vanzant.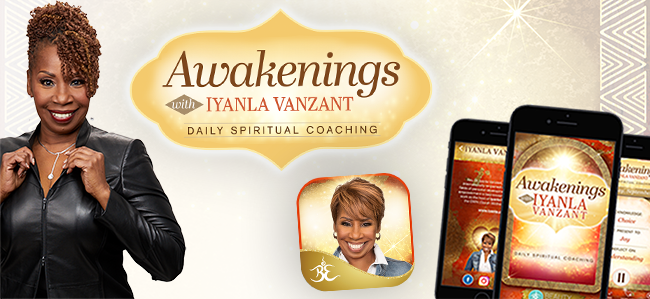 Iyanla is a remarkable woman, and it has been an honor working with her. She truly embodies the meaning of Beauty Everywhere. She has gone through many life traumas and yet has overcome them. By seeing the gratitude and beauty in the challenges, she's turned her wounds into wisdom.
Iyanla was born in the back of a taxi in New York. Her mother died from breast cancer when she was just two years old. She was raised in an abusive household. Her first husband was also abusive and she left him to become a single mother of three. And yet, she went on to become a lawyer, an ordained New Thought minister, a best-selling book author, an inspirational speaker and a life coach. She is currently best known for being the television host of "Iyanla: Fix My Life" on OWN: Oprah Winfrey Network. And now it's a privilege to say that she is also a best-selling app author!
Not only has she been very successful, but she always seems to be genuinely happy. It has been a joy to work with over this last year. She has tons of energy and an abundance of big belly laughs to share. She's turned the rough twine of her early years into treasured threads that have become the fabric of a beautiful life.
Her courage, strength and tenacity are such an inspiration to me, and so many others. I am in awe every day by her positive influence as I read the over 1,300 5-star reviews from her app that have poured in over the last few weeks.
"I love your guidance and listen 100%. I thank you for dedicating your life to healing. I love you so much. I can't believe I'm crying just typing this. Thank you from the bottom of my heart!" ~Mia Espinoza
"All I can say is FINALLY! SO GRATEFUL! SUCH AN AMAZING TOOL! HOW AWESOME TO WAKE UP & GET YOUR MORNING STARTED WITH THE GREATEST YORUBA TEACHER/ LIFE COACH OF ALL TIME! YORUBA MOTHER IYANLA VANZANT!! SO INSPIRING & POSITIVELY INFLUENTIAL!!" ~Tina Davis
"I love her and everything she does. Her voice is inspiring and delivered with confidence. I already shared with my friends. Thank you!" ~Liana Abletodoit
"I LOVE Iyanla Vanzant's new App. It is VERY POWERFUL. Thank you for all that you do in the world. God has some GREAT things in store for you. The LOVE in me feels the LOVE in you. I am sending you JOY, PEACE, LOVE and LIGHT your way, you deserve it, you're my Sister. CHOOSE to make it a GREAT day (CHOOSE GREAT). Your Brother in God and Loving Presence. Hand on Heart." ~Hansan
"The first time I listened to my daily three principles, I cried. I cried so hard, as if I was a child again. I needed to cry. I needed to remove toxic from my body through my tears. Through my tears of knowing that, through this app, I can get a sense of renewal. Iyanla, I've been waiting for this app. I appreciate you, and I thank you!" ~Gerri C
Iyanla is adored by millions of people! As I sat on the other side of the voiceover booth, recording her insightful principles to live by, I can see why! I have learned so much from this beautiful woman. She is truly a bright shining light and has become such an inspirational teacher to me!
THIS WEEK'S AFFIRMATION
I am grateful for INSPIRING TEACHERS !
I choose to focus on turning my wounds into wisdom by learning from others and their past experiences.
Right now Iyanla is offering a GiftAway that contains: an autographed copy of her book, "Get Over It" (retail value $24, autograph value, priceless), a selection of Beauty Everywhere apps (up to $50 value), and gift bags from Iyanla's MasterPeace beauty care line ($120 value). Check it out at: Iyanla's Awakenings App GiftAway


Co-Founder  | Beauty Everywhere